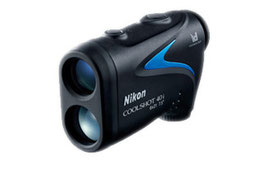 Nikon non è solo fotografia, ma è anche sistemi di misurazione e di osservazione.
All'interno della famiglia Nikon infatti vi è la divisione Nikon Sport Optic che si occupa della produzione di binocoli, di cannocchiali terrestri e dei Rangefinder, ovvero dei sistemi per misurare la distanza del soggetto.
Utili in molteplici applicazioni, dalla nautica alla caccia, dal golf all'osservazione naturalistica, i Nikon Laser Rangefinder
si articolano in una vasta gamma di modelli, dalle differenti caratteristiche. Si parte dalla gamma Coolshot, nei modelli 20, 40, 40i e AS, fino ai Prostaff 5, 7, 3i e 7i.
Tra i prodi di ultima generazione vi è il Coolshot 40i; progettato principalmente per i giocatori di golf; è in grado di misurare fino a 590 metri ed utilizza la tecnologia Hyper Read per visualizzare immediatamente la distanza valutando anche l'inclinazione del terreno. Il sistema di scelta di priorità del bersaglio consente di scegliere tra la distanza del soggetto lontano e quello del soggetto più vicino.

Specifiche:
Measurement range: 7.5-590m/8-650 yd.
Easy operation enables measurement of actual distance, horizontal distances, height and slope adjusted distance (Horizontal distance ± Height)
Golf mode displays the slope adjusted distance (Horizontal distance ± Height) which is a guide for how far you should hit the ball and useful when golfing on an uphill/downhill course — ID (incline/decline) Technology
Target Priority Switch System for measuring overlapping subjects:
First Target Priority mode displays the distance of the closest subject — useful when golfing for measuring the distance to a flagstick on a green with woods in the background.
Distant Target Priority mode displays that of the farthest subject — useful in wooded areas.
Single or continuous measurement (up to 8 seconds)
Quick and stable measurement response regardless of distance — HYPER READ
Displays the measurement result in approx. 0.5 second
Distance measurement display step is 0.5m/yd.
Compact, lightweight and ergonomic design
High-quality 6x monocular with multilayer coating for bright, clear images
Large ocular for easy viewing (18mm)
Wide field of view (7.5 degrees)
Long eye relief design affords eyeglass wearers easy viewing
Dioptre adjustment function
Rainproof — JIS/IEC protection class 4 (IPX4) equivalent (under our testing conditions)
Wide temperature tolerance: -10°C to +50°C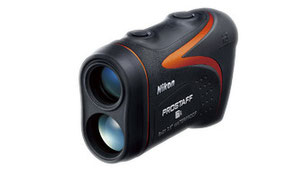 Tra i top di gamma, vi è la novità del Prostaff 7i: consente la misurazione fino a 1200 metri, con visione incrementale sotto i 600 metri di 0,1 metri; dispone di tecnologia -hyper Read ed offre un ingrandimento del soggetto di 6x. è più compatto e leggero del modello precedente e, visto l'impiego in esterni, è impermeabile.

Specifiche:
Measurement range: 7.3-1,200m/8-1,300 yd.
Horizontal Distance display mode and Actual Distance display mode can be easily switched — ID (incline/decline) Technology
Target Priority Switch System for measuring overlapping subjects:
First Target Priority mode displays the distance of the closest subject — useful when measuring the distance to a subject in front of an overlapping background.
Distant Target Priority mode displays that of the farthest subject — useful in wooded areas.
Quick and stable measurement response regardless of distance — HYPER READ
Displays the measurement result in approx. 0.5 second 
Single or continuous measurement (up to 8 seconds)
Compact, lightweight and ergonomic design
High-quality 6x monocular with multilayer coating for bright, clear images
Large ocular for easy viewing (18mm)
Wide field of view (7.5 degrees)
Long eye relief design affords eyeglass wearers easy viewing
Dioptre adjustment function
Waterproof (up to 1m/3.3 ft. for 10 minutes), but not for underwater usage; the battery chamber is water-resistant
Wide temperature tolerance: -10°C to +50°C